3D Precision Implant Planning
---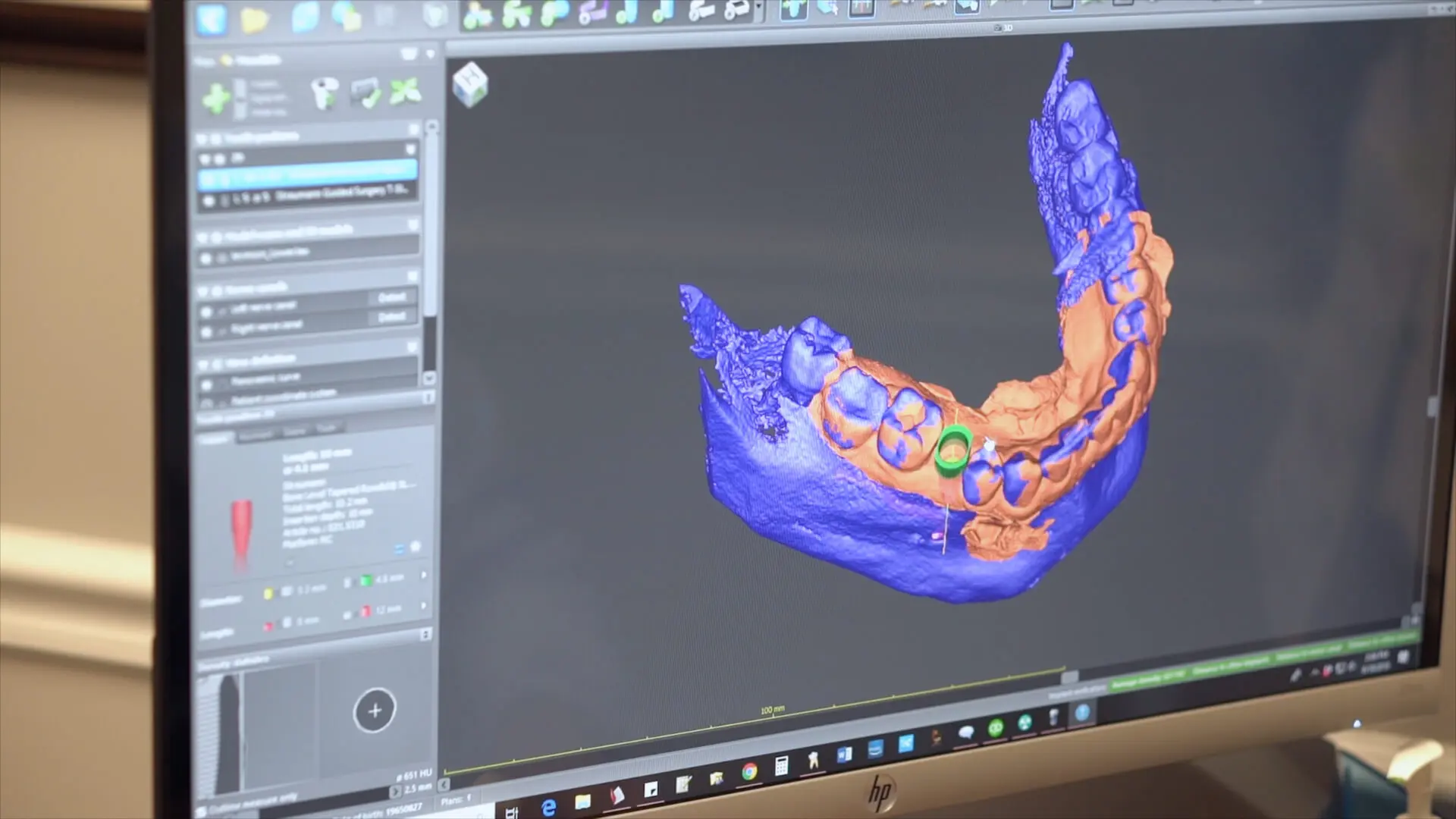 ---
Barkoff Dental provides 3D precision implant planning in Syosset, NY. Call us today at 516-921-1133 to learn more and schedule your appointment, or contact us online. 
The Importance of Implant Planning
---
When you have lost one or more teeth due to an injury, periodontal disease, or tooth decay, you want to be able to continue living life normally, without worrying about your teeth. Dental implants are the closest we can get to replicating the appearance and function of your natural teeth. Implants can either replace individual teeth, or provide a structural support for a dental bridge, or implant supported dentures. 
More people are choosing implants for their excellent durability, appearance, and function. However, to get the best possible results, it is important to position each implant  in exactly the right location. By using 3D imaging to create a precise surgical guide, we can optimize the functionality, appearance, and longevity of your dental implants.
---
How Does 3D Precision Planning Work?
---
Your dentist will use 3D scanning to capture an anatomically accurate picture of your teeth and jaw. Similar to an X-Ray, this 3D image gives your dentist a lot of information that they can use to create a precise plan for your surgery, including bone density and structure, as well as the placement of nerves and sinuses that will impact where the implant should be installed. 
Digital imaging is quick and comfortable. One scan provides enough data for a complete diagnosis and treatment plan. 
---
Creating a Surgical Guide for Optimal Results
---
Using the data collected by 3D imaging, we will create an individualized guide for your surgery. This guide tells the drilling system where to drill, ensuring that each implant is positioned and placed exactly where it needs to be to get the best possible results. By using a surgical guide, your implants will look better, function optimally, and have a greater longevity. 
The benefits of using a surgical map include:
Implants can be placed with greater precision.

Using a surgical map protects anatomic structures by placing implants in the safest locations, using the patient's available bone.

Surgery is normally shorter, and recovery times can be less compared to traditional methods. Patients experience reduced swelling, and less postoperative stress.
---
Reduce Complications in Dental Surgery
---
When dentists do not use a surgical guide, it is harder to place the implants as precisely as they need to be for maximum benefit. Many dentists will decide where to place an implant based on surrounding bone density alone, without taking into account other factors that can impact the result. Even a slight change in placement compared to the original treatment plan can make it harder to assemble the final appliance. 
A surgical guide that is created with 3D imaging can address these complications, by providing an extremely precise guide that is customized to your mouth and dental structure. 
Precision implant planning helps Dr. Barkoff create custom implants that are right for your mouth, and that will give you the best results. With the right pre-planning, and by taking care of your implants after surgery, your new teeth can last a lifetime.
---
Contact Us Today
---
Call Barkoff Dental at 516-921-1133 or contact us online to schedule your appointment.