Peter Barkoff:
Dentist Serving Syosset, NY
---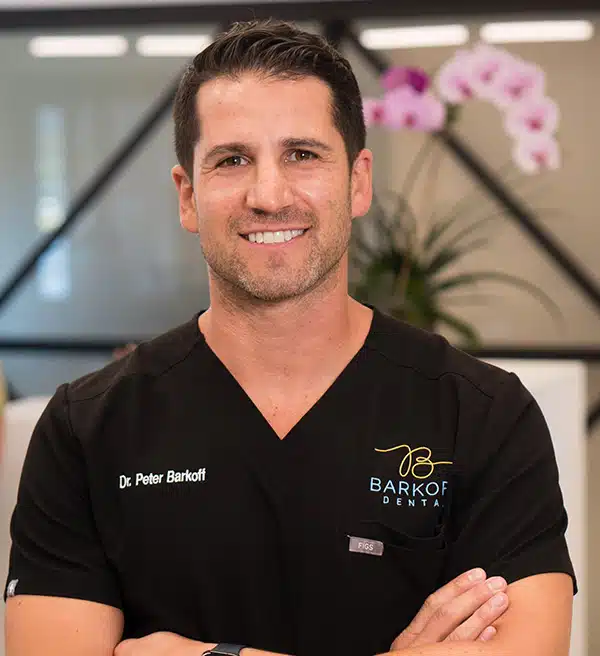 ---
Meet Dr. Barkoff
---
"There is no better feeling in the world than being able to help people every day. Being able to give patients that smile they have always wanted, fix that imperfection they have always hated, or take away that tooth pain that has been keeping them up all night is truly an amazing feeling for me. Dentistry offers me the ability to treat patients daily, improve their health, and do so with my own two hands. One of the greatest things about dentistry is that I get to spend time with so many of my patients, getting to know them and their families. In our office we take pride in spending time with patients and really making them feel like family." — Dr. Barkoff
---
Education and Continuing Education
---
Bachelor of Science in Kinesiology – Penn State University
Doctorate of Dental Surgery – New York University College of Dentistry
Residency training – VA Medical Center, Northport, NY
While completing his residency training at the VA hospital in Northport, Dr. Barkoff received extensive training in prosthetic and implant dentistry. He continues to stay on the cutting edge of dentistry and technology through continuing education courses. It's important to Dr. Barkoff that his patients receive the highest quality of care, with the newest techniques and equipment, while feeling comfortable and at home in his office.
---
Professional Affiliations
---
---
Our Office Philosophy
---
Dr. Barkoff has assembled a unique team made up of people who make each patient instantly feel like he or she belongs here. Each person is warmly greeted and offered all the amenities found at home. Our staff does everything they can to make patients comfortable; everyone is warm and friendly, and they are genuinely invested in people's health and happiness.
---
Outside the Office
---
Dr. Barkoff is originally from Woodbury, and currently resides in Syosset with his wife Ashley and their three sons, Brooks, Cooper and Hudson. In his spare time he enjoys exercising, playing sports with his kids, and spending time with his family.