CEREC Single Visit Crowns in Syosset, NY
---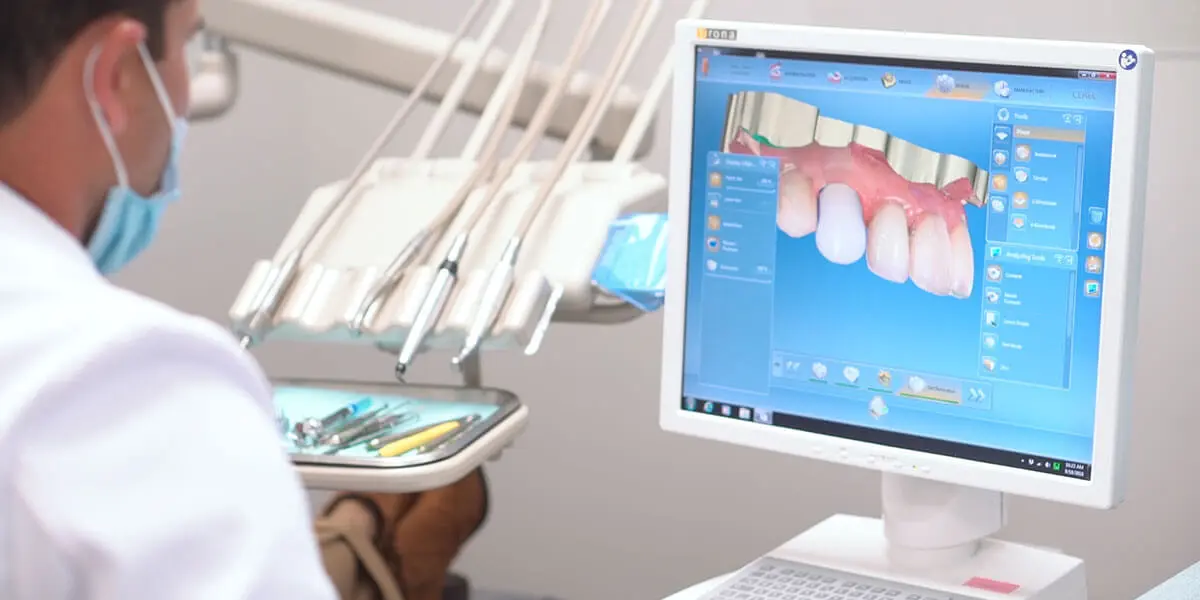 ---
At Barkoff Dental, we proudly provide CEREC single visit crowns in Syosset, NY. Call 516-921-1133 to schedule your appointment!
---
What Is CEREC?
---
Chairside Economical Restoration of Esthetic Ceramics (CEREC) is a revolutionary technology for restoring damaged teeth in a single visit. It makes your teeth stronger and more beautiful, yet entirely natural-looking.
Chairside: We can fabricate your new crown while you wait, in about 15 minutes. The entire appointment, including removing all decay and preparing your tooth, will take about an hour.
Economical: CEREC is less expensive than traditional lab-created crowns, since your crown is created right in our office.
Restoration: Your single visit crown restores your tooth's strength, function, and beauty.
Esthetic: Your beautiful, natural-looking crown will blend well with the rest of your teeth.
Ceramic: The high-quality, metal-free dental porcelain is strong, durable, and biocompatible. It closely resembles the color, sheen, and translucency of a natural tooth.
---
The CEREC Process
---
We believe strongly in patient education, so the first step is a thorough discussion of the procedure and what to expect. We will also answer any questions you might have. Next, we will remove all traces of damage or decay, and prepare your tooth to receive the crown. Then we will apply a thin layer of reflective powder to your tooth and take a photo with a special 3-D imaging camera.
While you wait, we will use CEREC's proprietary software to design your personalized restoration, ensuring proper form and function. Then, CEREC will use diamond burrs to create your crown from a block of dental porcelain. Finally, we will use state-of-the-art adhesive dentistry to bond your new crown to your tooth.
---
Why Choose CEREC?
---
There are many advantages of using CEREC over traditional crown technology.
Time: While traditional lab-created crowns require two separate appointments, CEREC crowns are made in one visit. This means that you do not need to take extra time away from your job or family.
Comfort: Traditional crowns require goopy, uncomfortable impressions. You must also wear an ill-fitting, uncomfortable temporary crown while your permanent crown is made. With CEREC, there is no need for either messy impressions or a temporary crown.
Strength: Milled ceramic is stronger than the traditional method of layering and pressing, so your smile will stay beautiful for years!
Fillings: CEREC material and technology can also be used for fillings. Since these fillings are made from high strength ceramics, they are more durable than white composite fillings.
Call Barkoff Dental at 516-921-1133 to schedule your appointment!
Same Day Crowns FAQs
What Are Same Day Crowns?
---
In the past, crowns could only be made by technicians in professional dental labs and the process took weeks. With traditional crowns patients had to have molds taken and wear a temporary until the new crown arrived back from the lab. With same day crowns, we have the ability to design and make a custom ceramic crown in our office, so your tooth can be prepared and your crown can be placed often in about an hour. These crowns are stronger, more durable and esthetic than traditional crowns.
What Are The Benefits of Same Day Crowns?
---
There are many benefits to choosing same day crowns over traditional crowns. Same day crowns only require one appointment instead of two or three, saving you time and an unnecessary second visit with novocaine. Traditional crowns require two weeks of waiting time; during this period, you'll need to wear a temporary crown, which can leave your tooth susceptible to damage and decay. Temporary crowns often come off and require you to come back to have it recemented. While wearing your temporary crown, you'll be on a restricted diet, which many patients find inconvenient.  
How are Same Day Crowns Made?
---
Same day crowns are made by our in office, not an outside dental lab. Our state of the art 3-D imaging allows us to prepare your own personalized crown in one visit without the need for traditional molds or temporaries.  
Are Same Day Crowns More Expensive?
---
No, same day crowns cost the same as traditional crowns.
Are Same Day Crowns Covered by Insurance?
---
Yes, if your dental insurance covers the cost of crowns, it will also cover the cost of same day crowns.
How much do Same Day Crowns Cost?
---
The expertise of your dentist, material selection, and the geographic region where your treatment is performed are usually just some of the determining factors for many fees associated with your care. Fees for crowns are often partially covered by dental insurance and patients can expect an out of pocket expense to range anywhere from $500 - $2,000 depending on the different factors.  
How Long Do Same Day Crowns Last?
---
Same day crowns can be expected to last 10 -15 years on average, but they often last even longer than this. Keeping your dental crown in good shape is simple: brush your teeth for two minutes, twice a day, floss daily, and visit the dentist for cleanings and oral exams every six months.
Can I Really Get A Crown Done In One Day?
---
You can absolutely get a crown done in one day! Same day crown technology has revolutionized the field of restorative dentistry. Same day crowns offer the strength and durability of traditional crowns without the wait.
Will The Color Of Same Day Crowns Match My Teeth?
---
Same day crowns are created from ceramic material and we carefully work with you to select a color shade to match your natural teeth. We take careful consideration to customize the color of each tooth we fabricate to match perfectly with your natural teeth.  
Are Same Day Crowns Free Of Metal?
---
There is no metal used in same day crowns. Instead, they're made from a ceramic material that matches the color of your teeth, blending in perfectly with the rest of your smile. 
---
---