Dental Implants in Syosset, NY
---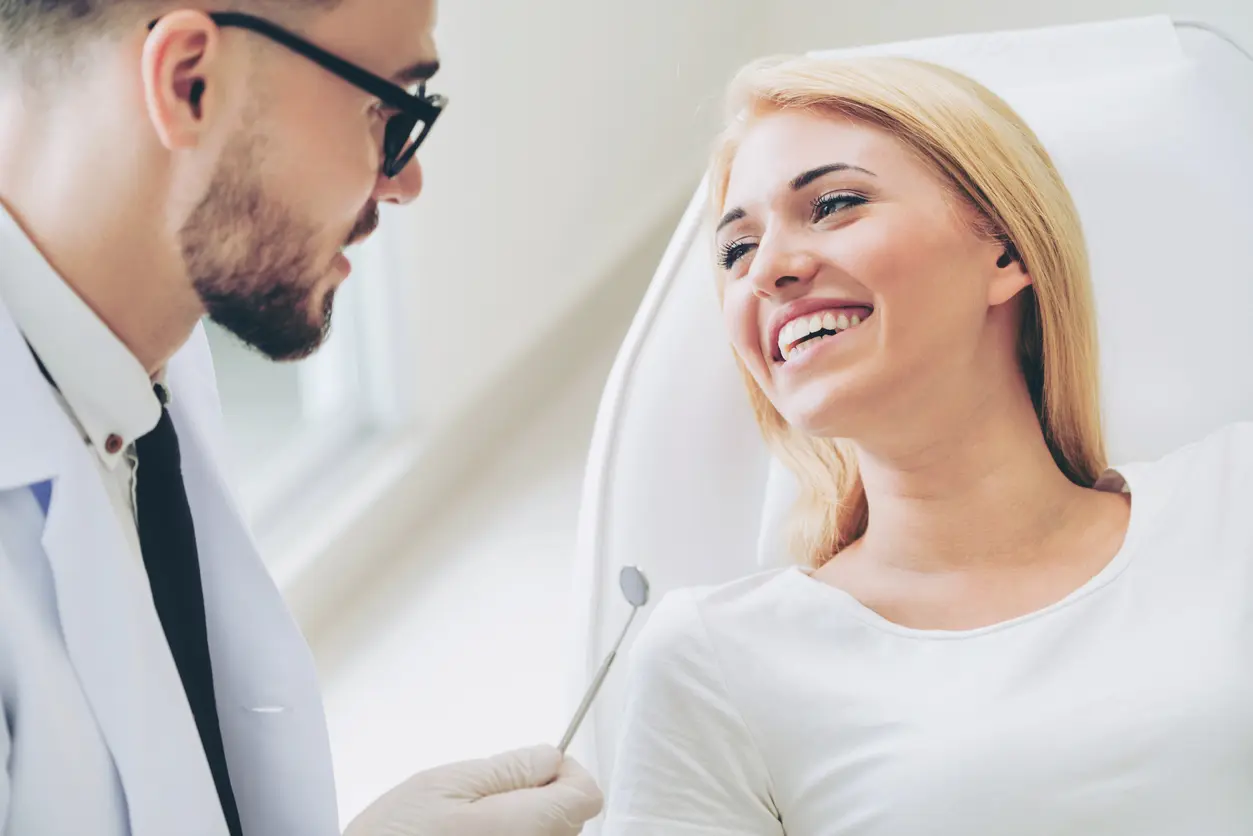 ---
Barkoff Dental provides dental implant services in Syosset, NY. Call 516-921-1133 to learn more and schedule your appointment. 
Dental implants are the ideal replacement for missing teeth. Unlike other restorations, implants replace the roots of teeth, which prevents bone loss in the jaw. Preserving bone density results in a stronger bite and prevents changes to the facial structures.
The dental implant itself is a titanium post that is implanted into the jaw where the root used to be. A small piece called an abutment is attached to the implant. The abutment is used to anchor an individual crown, a bridge, or a full or partial denture. 
Patients from across Long Island travel to our Syosset, NY practice for dental implants. Dr. Barkoff and Dr. Asheld have both received extensive training in implant dentistry and prosthetics, a unique set of skills that allows them to create beautiful restorations that look and function just like your natural teeth. 
---
Our Syosset, NY practice offers the following types of dental implants:
---
Single Tooth Dental Implants
---
The most common type of dental implant, this procedure involves placing a titanium post into the jaw, attaching an abutment, and then securing a crown to the abutment. We use materials that blend in with your remaining teeth for a restoration that looks and functions like a natural tooth.
---
Implant-Supported Bridges
---
An implant-supported bridge is an appropriate option whenever three or more adjacent teeth are missing. Implant-supported bridges involve using implants to replace the two outermost missing teeth and using these implants to hold a bridge to replace the teeth that are missing between them.
---
Implant-Supported Dentures
---
When a number of teeth are missing, implant-supported dentures are a preferred treatment option. This type of denture is secured in place using two or more dental implants, rather than the adhesive pastes used with traditional dentures. The result is a more stable restoration that never slips or falls out. These dentures can be full or partial, fixed or removable. Implant-supported dentures are not only preferable because of their stability, but also because they prevent facial collapse, a frequent consequence of missing teeth.
---
Full Arch With Only Four Implants
---
When all upper or lower teeth are missing, we can replace them with this type of implant procedure, which involves supporting a full arch of prosthetic teeth with only four dental implants.
---
Mini Dental Implants (MDIs)
---
Mini dental implants, or MDIs, are typically used when there is insufficient bone material to support traditional dental implants or when there is not enough space in the jaw to accommodate a standard implant. MDIs function the same way that other dental implants do, with the primary difference being that they are smaller in diameter. Dental implant placement is less invasive than traditional implant surgery, usually requiring only local anesthetic and no sutures.
---
Guided Dental Implant Placement
---
This advanced technology allows us to plan your treatment in detail on our computer, using 3D models that simulate your implant results. Once we've determined your treatment plan, we can create surgical guides that help us place your implants exactly where they need to be for optimal results.
Dental Implant FAQs
---
How much should dental implants cost?
---
There are several factors that could influence the cost of a dental implant, but the average cost that you could expect to pay ranges from $1,200 to $3,000 for just one implant fixture.  Additionally, you have to add in the restoration which is made up of the abutment and crown, which those could carry and out of pocket costs ranging anywhere from $1,000 to $3,000. A major influence on the varying fee range is determined by the Implant manufacturer and material selection.
---
Why does the type of implant matter?
---
As with any product, there are many different manufacturers of dental implants with a wide range of costs. Since a dental implant will be placed in the bone, it's important that you know the quality of the material.  The better implant companies, such as Nobel and Straumann, also have a proprietary coating on the implant surface that promotes better bone healing. It is important that you ask your doctor what implant type and brand of the implant is being placed.
---
How effective are dental implants?
---
Dental implant surgery is a procedure that replaces teeth roots with a titanium or ceramic screw-like post. Dental implants should last a lifetime with proper care and regular checkups during dental cleanings. In general, their success rate is up to 98% depending on bone quality and the integrity of the implant restoration (implant crown).
---
How painful is it to get dental implants?
---
Dental implant surgery is done under regular local anesthesia with most patients reporting that they felt no discomfort during the procedure.  At times a slight feeling of pressure can be expected. After the numbness wears off, you may experience some healing discomfort, but most patients note that this is mild. Most patients report that they were able to work or participate in their normal routine without any disruptions. The amount of discomfort is often dependent on how the patient typically heals after dental procedures.  
---
How long do dental implants last?
---
With proper care and maintenance, dental implants are meant to last a lifetime. That said, the restorations attached to your implants may need to be replaced after several years of use.
---
Will insurance cover dental implants?
---
In many cases, dental insurance will contribute towards the cost of dental implants.  If you have an FSA (Flexible Spending Account) or an HSA (Health Savings Account), you can use that money to pay for your Implant procedure and restoration as well.
---
Can dental implants be done in one day?
---
Depending on specific criteria, there are times that an implant can be completed in one day.  Often this means you will leave with a temporary crown which will be worn for 3-4 months before a permanent crown is placed.
However, traditionally, dental implants are done in three steps.
The first step involves the removal of the failing tooth and placement of a bone graft to help preserve bone to allow placement of the implant after healing.
Step two will occur 1-3  months after step one. This is when the implant is placed.  
Step three occurs 3-4 months after implant placement and consists of the fabrication of your custom implant crown and abutment.
---
What is the aftercare that is required?
---
Patients are encouraged to take your normal over the counter pain management medications such as Advil or Tylenol.  Additionally, an antibiotic is often prescribed as well as a special mouthwash. Patients are then required to return for a follow up 7-10 days later to check healing.
---
How long does it take for dental implants to heal?
---
Healing is dependent on where in the mouth the implant was placed and the quality of the bone in which it was placed.  Healing time can range anywhere from 3-6 months.  
---
How do I prepare for dental implants?
---
We'll give you instructions prior to your procedure, as this depends on the type of sedation or anesthesia being used. Generally speaking, you'll want to brush your teeth well before you leave for our office, then floss and rinse with an antibacterial mouthwash. If you've been prescribed antibiotics, you should take those as directed.
---
Can I eat after implant surgery?
---
Yes!  A soft diet is recommended for a few days after the implant placement and then you can return to your regular diet while healing occurs.